Just so you know, I've changed the way I post items on this page. From now on, new stuff will be at the top so you will see it immediately when you first reach this page.
After seeing this paragraph first, of course…
11th April 2019
SQUIRREL QUEST.
It's taken quite a few weeks to get this one to the point of publishing but I've finally made it.
The idea of the game is about being a squirrel going in search of food to bury  thereby having a supply for the long winter months ahead. However, there are other squirrels also out searching for food and they are not amiss to pinching the stuff you've already collected so watch out…
Other woodland animals are also looking to catch you as their dinner so you'll have to do your best to avoid them.
The object of the game is to be the squirrel that collects the most food by the time winter arrives.
A fun, faced paced game which has quick to read and easy to understand rules. It can be played by one to six players and takes about 15 minutes per person to play. Four people can manage a whole game in about an hour. One person can play it, then play again and try to beat their previous score.
It is a super good family game!
I've put the links below that will get you to the site where it is on sale and also the free downloads of the rule sheet and score sheet.  Feel free to print them off and get an idea of how the game works…
Rule sheet (2 A4 sides)
Score Sheet (1 A4  side)
Designed and made in Great Britain 🙂
———————————————————–
22nd March 2019
In a few days time, another board game (which is number 2 in the Aventyr series) will be available for you to look at.
It's based on SQUIRRELS of all things. The basic theme is they have to go out from the forest glade they live in and gather as much food as they can before the winter arrives but, as always, there are obstacles in the way to hinder their progress…
This one is also made in England.
Pictures and a link will be added here within a few days…
It's so exciting. 🙂
(and I'm working on numbers 3 and 4 as we speak…)
—————————————————————————————————————
Announcing the release of a Cycling Board Game…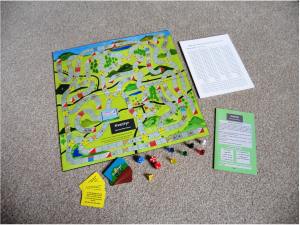 It has been a long time coming (over 22 years!) but here it is… 
'Aventyr – The Mountain Bike Edition'  Board Game.
It's based on a sport I participated in 20 years ago called TRAILQUEST.
It's basically Orienteering on a Mountain Bike. Except with this version you don't get cold and wet (unless you set up a table and play it in the garden in December…)
It's published in the USA but can be shipped here.  
Then buy one 🙂       But only if you live in the USA……. 
 UK  customers look below…. 🙂
As of January 2019, it is now possible to buy a version that is made in the United Kingdom by a fine company called IVORY GRAPHICS of March, Cambridgeshire.
It is very slightly different to the one available from The Gamecrafter in the USA. The reason is the British company makes slightly different size cards and boxes but the actual game and the way it plays is identical.
It does have a swanky new box design though…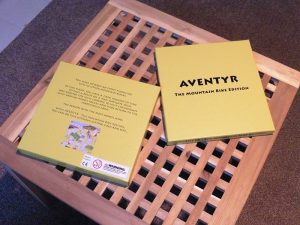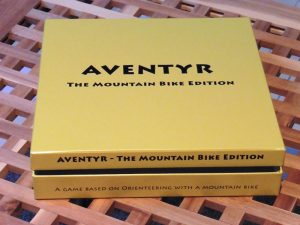 Happily, this version will work out cheaper for customers this side of 'the pond' as the carriage charge is MUCH less and there is no import duty to pay.
To learn a bit more, follow this link –
Then buy one 🙂
It's the most fun you can have on a bike without actually being on a bike…