Northman Board Games
16th March 2020.
The next game…
… is about to be sent to the printers so I can get a proof copy. All being well, I'll be publishing it within a few weeks. Here's a clue…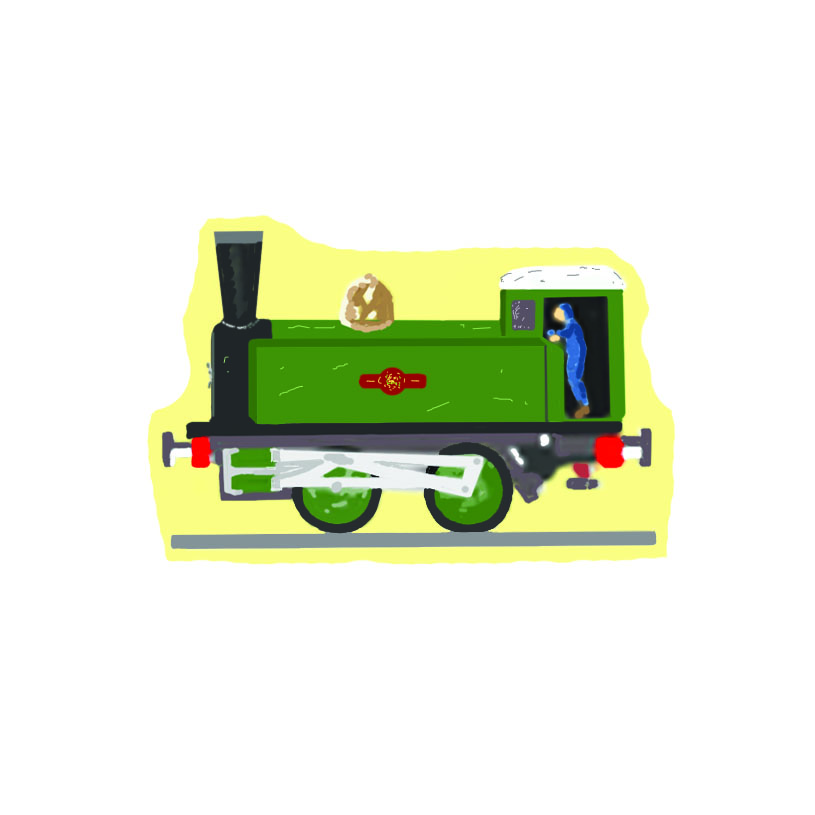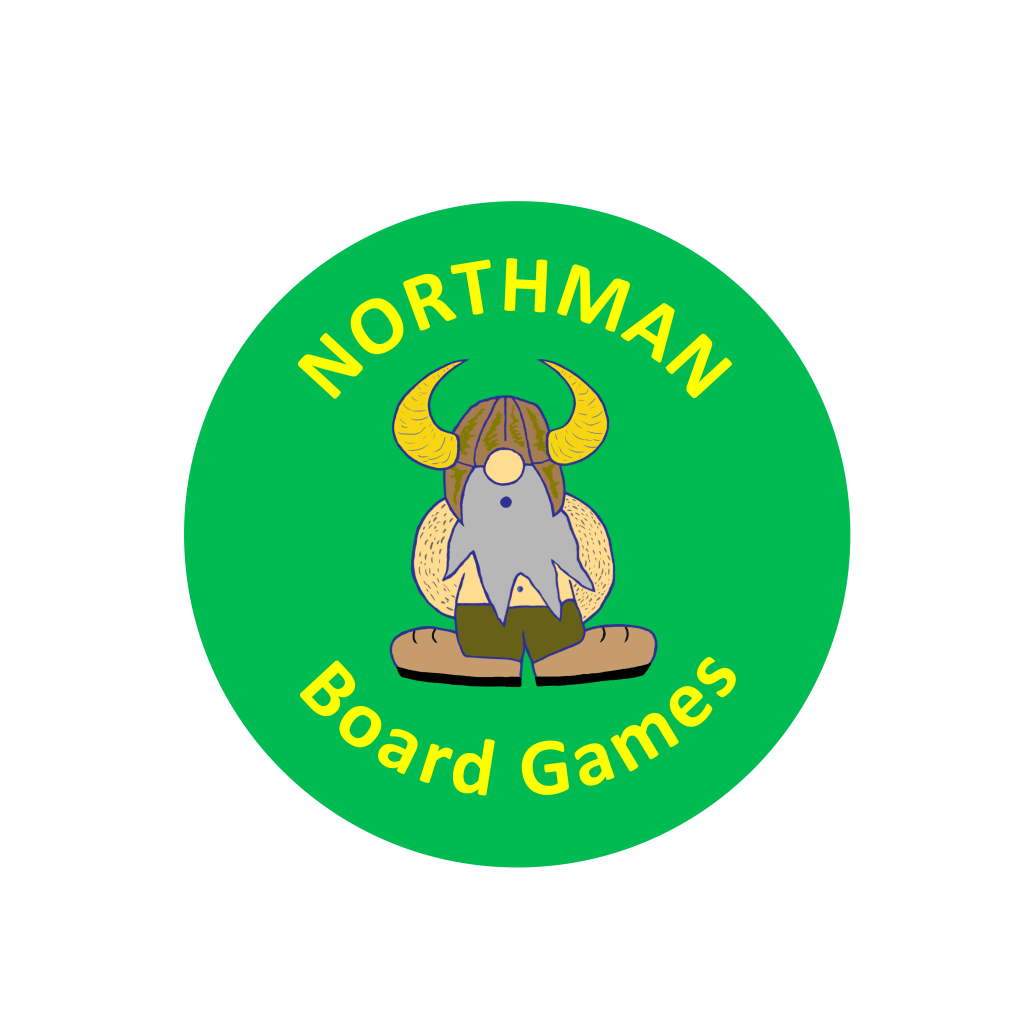 7th August 2019
The first 4 of my AVENTYR series of board games are now all side by side on the IVORY GRAPHICS website. Click these links to go directly to them.
Mountain bike https://www.ivorygraphics.co.uk/shop/games/4518/aventyr__the_mountain_bike_edition
Squirrels https://www.ivorygraphics.co.uk/shop/games/3776/squirrel_quest
Sailing https://www.ivorygraphics.co.uk/shop/games/4151/set_course_for_spitalmain
Lorry driving https://www.ivorygraphics.co.uk/shop/games/4480/speedykrate_haulage_co
If there is a theme that you would like to see as a game, please send me an email via the 'contact us' page and I'll let you know if it is feasible. A field archery competition and escaping from Zombies have both been suggested. Watch this space…
15th July 2019
Have a look at this…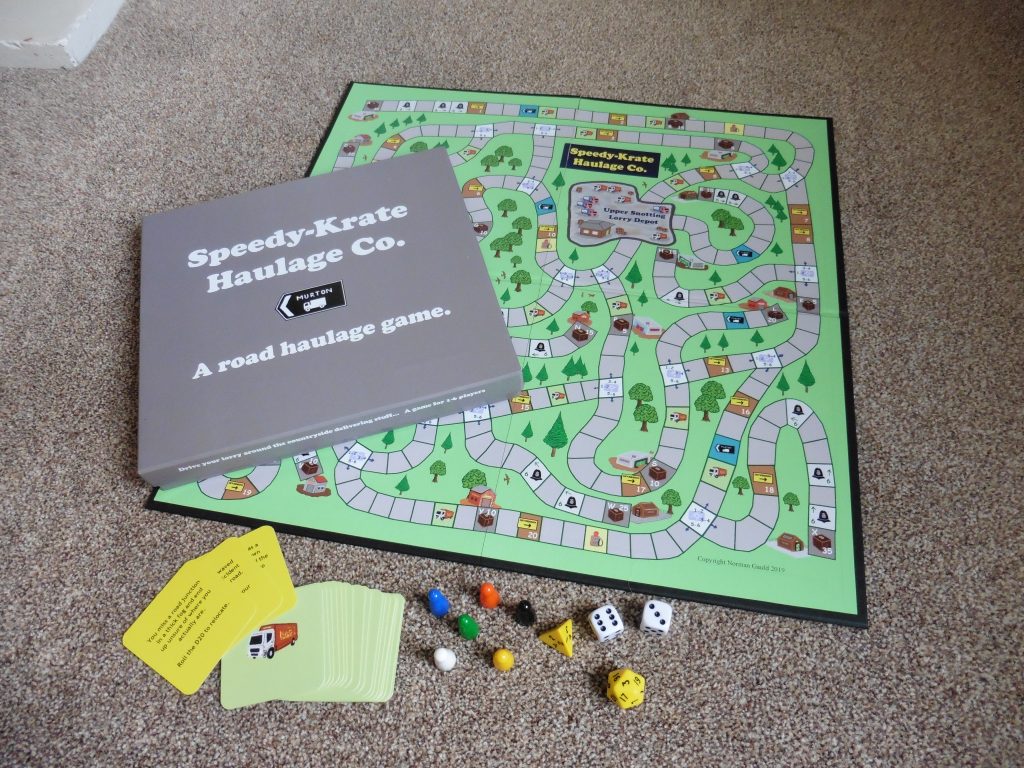 10th July 2019
It's all happening! Willie the Postie has just been to the door with a parcel containing the proof copies of 'Speedy – Krate Haulage Co.' and, well, I am speechless! Ivory Graphics continues on the road of quality products. Wow! It's all too much – I need to go and have a lie down for a while…
Photos etc. when I have stopped shaking with excitement…
8th July 2019
'Set course for Spitalmain' has arrived and jolly nice it is too!
It is now available to order. It's print on demand so it will take about 10 days or so to be produced then sent via the Royal Mail.
Follow this link to the Ivory shop to see it …
https://www.ivorygraphics.co.uk/shop/games/4151/set_course_for_spitalmain
While you are there, you can download the 'How to Play' leaflet and see for yourself how easy and straightforward it is.
Number 4 in the Aventyr series, 'Speedy-Krate Haulage Co. is in production and should be with me next week.
1st July 2019
I'm pleased to tell you that game number 4 in the Aventyr series, Speedy-Krate Haulage Co., was, this afternoon, uploaded to Ivory Graphics for them to prepare my 2 proof copies.
Also, when I spoke to Rob at Ivory Graphics this morning, he told me that I should get the proof copies of 'Spitalmain' within the next couple of days. There will be photos up soon…
I had an email from Ben in Devon asking how and where I get these games made, Just in case anyone else fancies a go at having their own game produced, follow this link; https://www.ivorygraphics.co.uk/gamemaker/
Splendid, helpful people…
29th June 2019
Here's a sneaky peek at 'Set course for Spitalmain!'…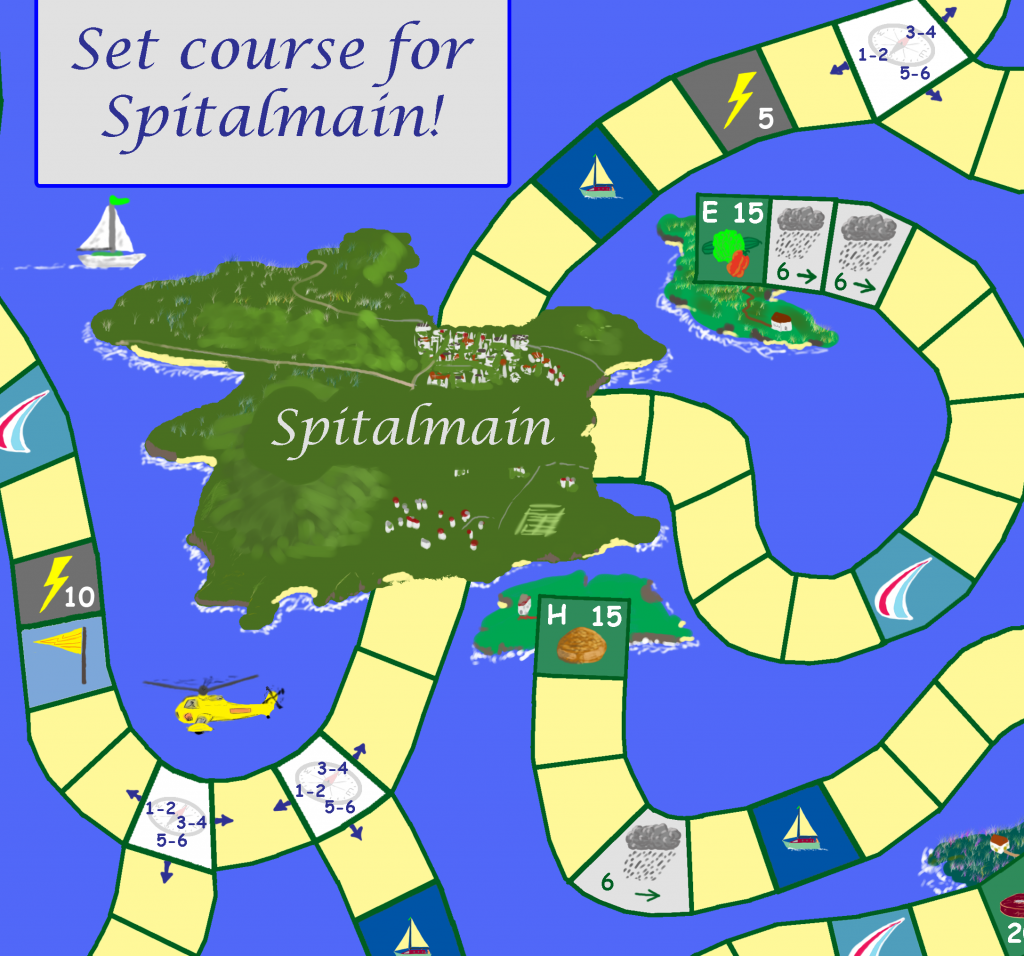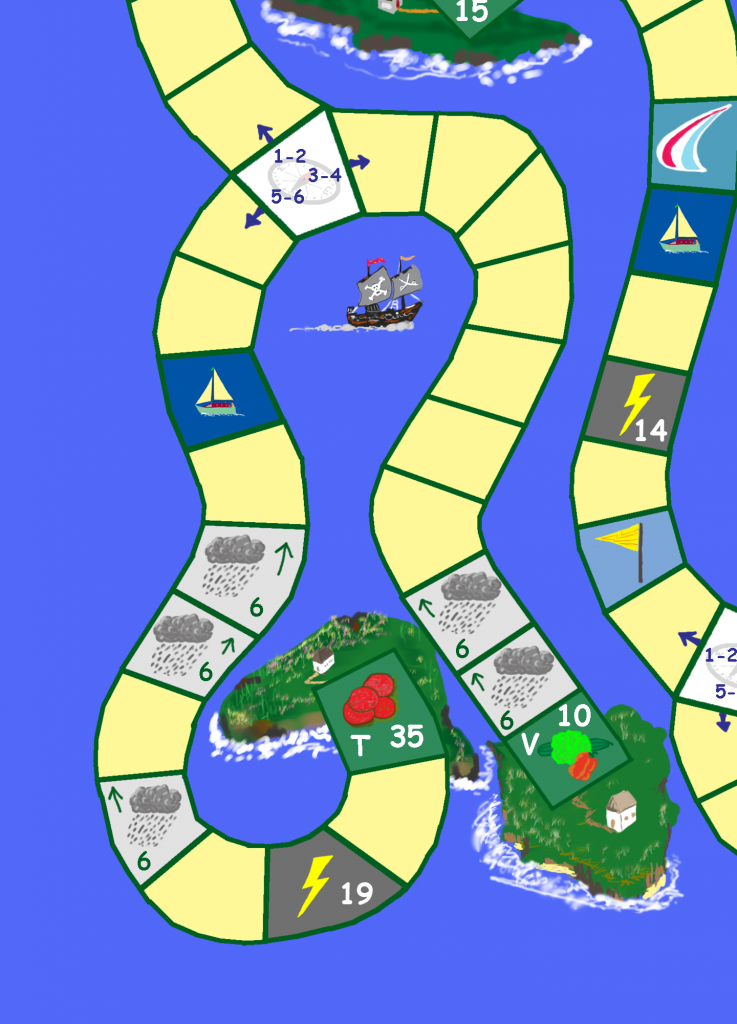 While I'm here, I'll mention that the next game is very much near completion.
The 'Speedy-Krate Haulage Co.' will soon be delivering to a factory near you….
16th June 2019
Calling all yachtsmen/yachtswomen/sailors !
The latest in the AVENTYR series has, just this morning , been uploaded to the splendid people at Ivory Graphics so that they can make 2 proof copies of
'Set course for Spitalmain!'
A sailing board game
Once I've approved it, I will then offer the game for sale in the Ivory Gamemaker shop.
In case you're wondering, it's about a lot of yachties who have convened on the Isle of Spitalmain to have a barbecue on the beach.
Horror of Horrors though – nobody has brought anything to cook!!! They all thought someone else was bringing it.
There just happens to be a load of wee islands quite near the main island that have wonderful artisan shops selling the finest of barbecue provisions (as wee islands do), so everyone decides to sail off and get some.
The winner of the game is the person who returns to Spitalmain having collected the most.
No pictures yet but there will be soon.
I'll put the rules sheets up as a free download in the next few days.
11th April 2019
SQUIRREL QUEST.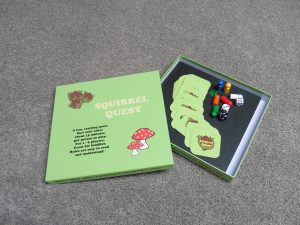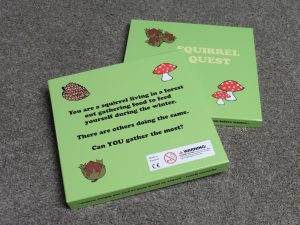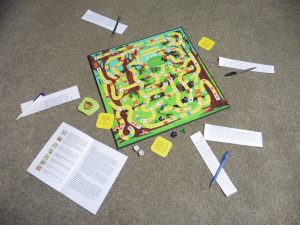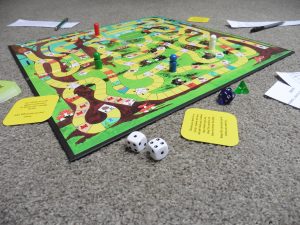 It's taken quite a few weeks to get this one to the point of publishing but I've finally made it.
The idea of the game is about being a squirrel going in search of food to bury thereby having a supply for the long winter months ahead. However, there are other squirrels also out searching for food and they are not amiss to pinching the stuff you've already collected so watch out…
Other woodland animals are also looking to catch you as their dinner so you'll have to do your best to avoid them.
The object of the game is to be the squirrel that collects the most food by the time winter arrives.
A fun, faced paced game which has quick to read and easy to understand rules. It can be played by one to six players and takes about 15 minutes per person to play. Four people can manage a whole game in about an hour. One person can play it, then play again and try to beat their previous score.
It is a super good family game!
I've put the links below that will get you to the site where it is on sale and also the free downloads of the rule sheet and score sheet. Feel free to print them off and get an idea of how the game works…
Rule sheet (2 A4 sides)
Score Sheet (1 A4 side)
Designed and made in Great Britain 🙂
———————————————————–
22nd March 2019
In a few days time, another board game (which is number 2 in the Aventyr series) will be available for you to look at.
It's based on SQUIRRELS of all things. The basic theme is they have to go out from the forest glade they live in and gather as much food as they can before the winter arrives but, as always, there are obstacles in the way to hinder their progress…
This one is also made in England.
Pictures and a link will be added here within a few days…
It's so exciting. 🙂
(and I'm working on numbers 3 and 4 as we speak…)
—————————————————————————————————————
Announcing the release of a Cycling Board Game…
It has been a long time coming (over 22 years!) but here it is…
'Aventyr – The Mountain Bike Edition' Board Game.
It's based on a sport I participated in 20 years ago called TRAILQUEST.
It's basically Orienteering on a Mountain Bike. Except with this version you don't get cold and wet (unless you set up a table and play it in the garden in December…)
It's published in the USA but can be shipped here.
Then buy one 🙂 But only if you live in the USA…….
UK customers look below…. 🙂
As of January 2019, it is now possible to buy a version that is made in the United Kingdom by a fine company called IVORY GRAPHICS of March, Cambridgeshire.
It is very slightly different to the one available from The Gamecrafter in the USA. The reason is the British company makes slightly different size cards and boxes but the actual game and the way it plays is identical.
It does have a swanky new box design though…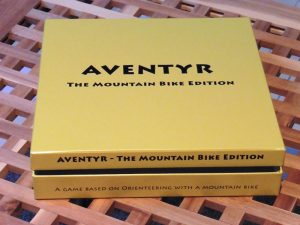 Happily, this version will work out cheaper for customers this side of 'the pond' as the carriage charge is MUCH less and there is no import duty to pay.
To learn a bit more, follow this link https://www.ivorygraphics.co.uk/shop/games/4518/aventyr__the_mountain_bike_edition
Then buy one 🙂
It's the most fun you can have on a bike without actually being on a bike…