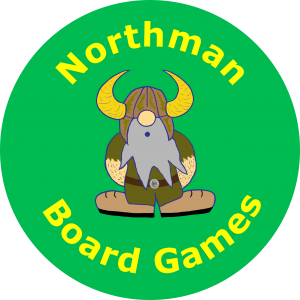 ---
How to buy a Northman Board Game.
If you would like to have one of our games sent to yourself or directly to someone else, simply fill in the form below stating which game you would like to buy, your full name, address and phone number and the address you want it delivered to. We'll then email you a secure link (usually within 24 hours) so that you may safely pay by debit or credit card. Once that transaction is verified, we'll pop the game in the post and our friends at Royal Mail will deliver it a few days later.
All of our games cost £34.99 each including delivery.
2nd April 2022 – Our games are also available to buy on ETSY !
https://www.etsy.com/uk/shop/NorthmanBoardGames
We regularly attend some local handmade craft fairs so it's possible for you to come and say 'hello' and buy a game directly from us. Primarily, we go to the compact but bijoux Kelso Craft Fair held in the Oak Room of the Cross Keys Hotel in Kelso on the last saturday morning of every month (it coincides with the Kelso Farmers Market in the Square). We'll post on here and Facebook when we're going to other places…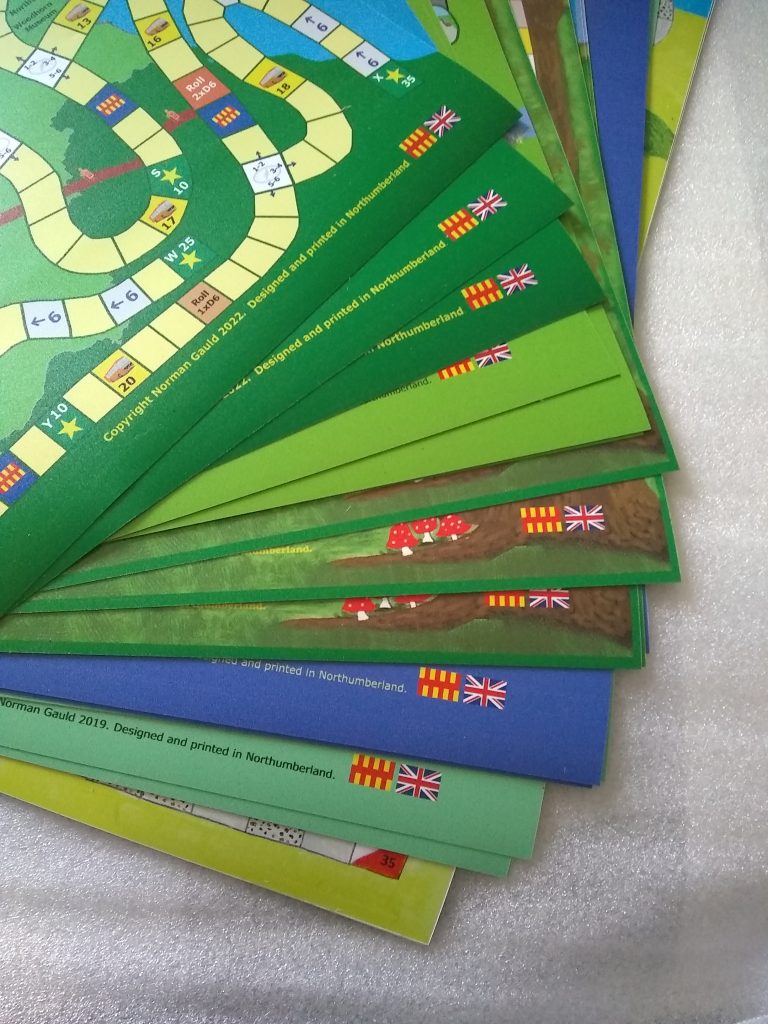 Welcome to Northman Board Games.
When we say 'games' (plural), we're actually bending the facts a wee bit, because all of our games actually share the same mechanic. That is, they all play in the same way. However they do have different themes. That way, it appeals to a much broader audience so it is more likely there will be one to catch your interest…
How does it work?
You have a set amount of time in which to venture from a start area, travel around the board collecting points and then return to the start. Once all of the players have done this, the one with the most points is the winner.
Is it difficult to play and does it take long?
Oh gosh, no. The rules are easy to read and understand, and there's not actually many of them. The game can be played solo or by as many people as you can get around the board. It's a timed game, you'll need a clock or a watch to keep track. It takes roughly 20 minutes per player to complete so it's not long and boring like some well known games are…
It has been designed as a family game so it's very suitable for children of about 8 years upwards as well as adults. We know that because it has been extensively play tested by all age groups. It's quite fast moving, so it holds the attention of the younger players well.
---
Below, you will find listed our current offerings. There are more on the drawing board, please keep checking back.
---
AVENTYR – The Mountain Bike Edition
A mountain biking board game.
Where it all started – the very first game we designed…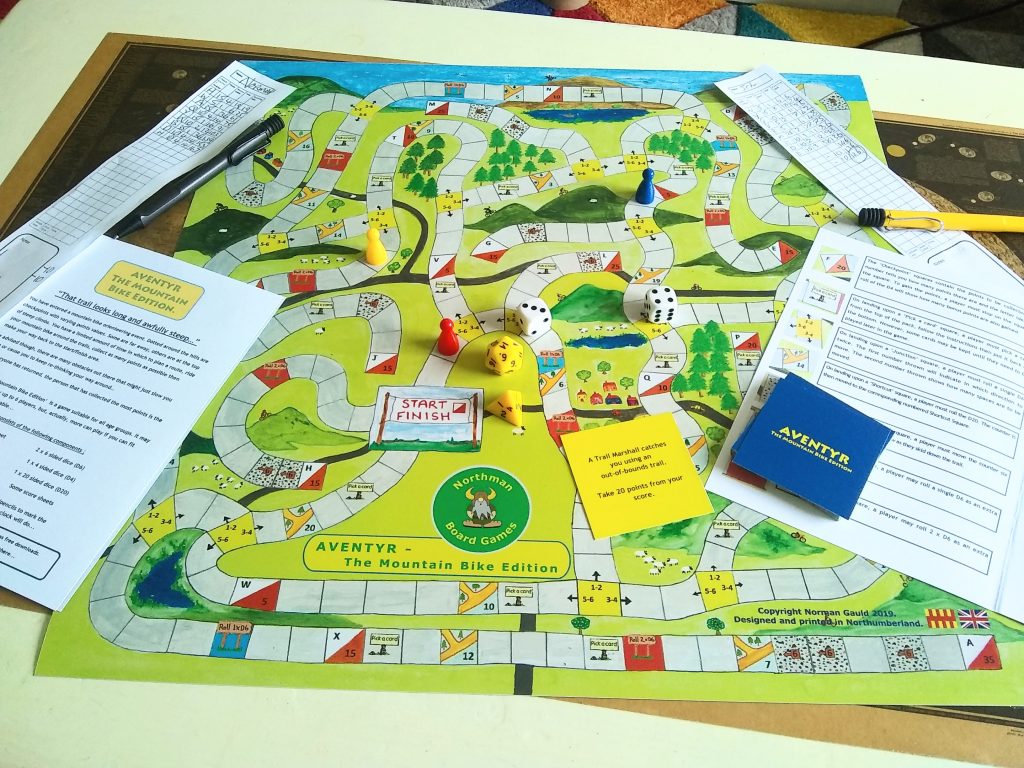 Do you like Mountain Bikes and cycling?
Here's a board game designed with you in mind…
You are a keen mountain biker and have entered a mountain bike orienteering event. Dotted around the hills are checkpoints with varying points values. You have a set amount of time in which to plan your route, ride your bike through the hills, collect as many points as possible then return to the start/finish area. Once everyone has finished, the person with the most points wins.
However, there are many obstacles out there that might just hinder your progress. You might have a puncture or snap your chain. You might lose your map or be slowed by thick sticky mud. A trail marshall might stop you going along a particular trail but, conversely, you might find a smooth downhill section to speed you on your way or a fellow competitor tells you of a shortcut to save you time…
There are many twists and turns providing fun and laughter along the way.
You don't need to know anything about bikes or cycling to play it.
---
Squirrel Quest
A squirrel board game.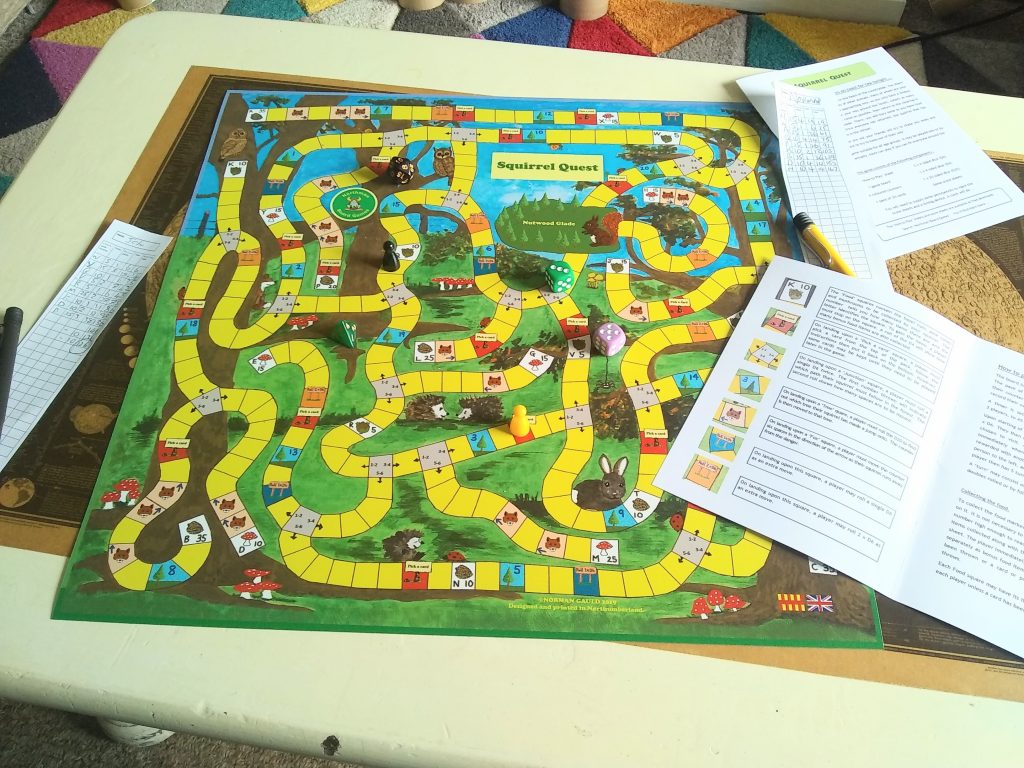 Do you like nature and wildlife?
Then read on…

You are a squirrel going out to gather food to put away for the coming winter. There are plenty of nuts, pine seeds and mushrooms in the forest but, now that summer has faded, you don't have long to collect them. There are many squirrels out doing the same. Also, there are other animals going about that will hinder your efforts and may even steal what you've already collected. You need to be both clever and lucky to avoid them. You might forget where you have buried some nuts or come across a pine cone another squirrel has buried.

Your aim is to be the squirrel that has collected the most food by the time winter arrives.
You don't need to know anything about squirrels or wildlife in general to play it.
---
Set course for Spitalmain!
A sailing board game.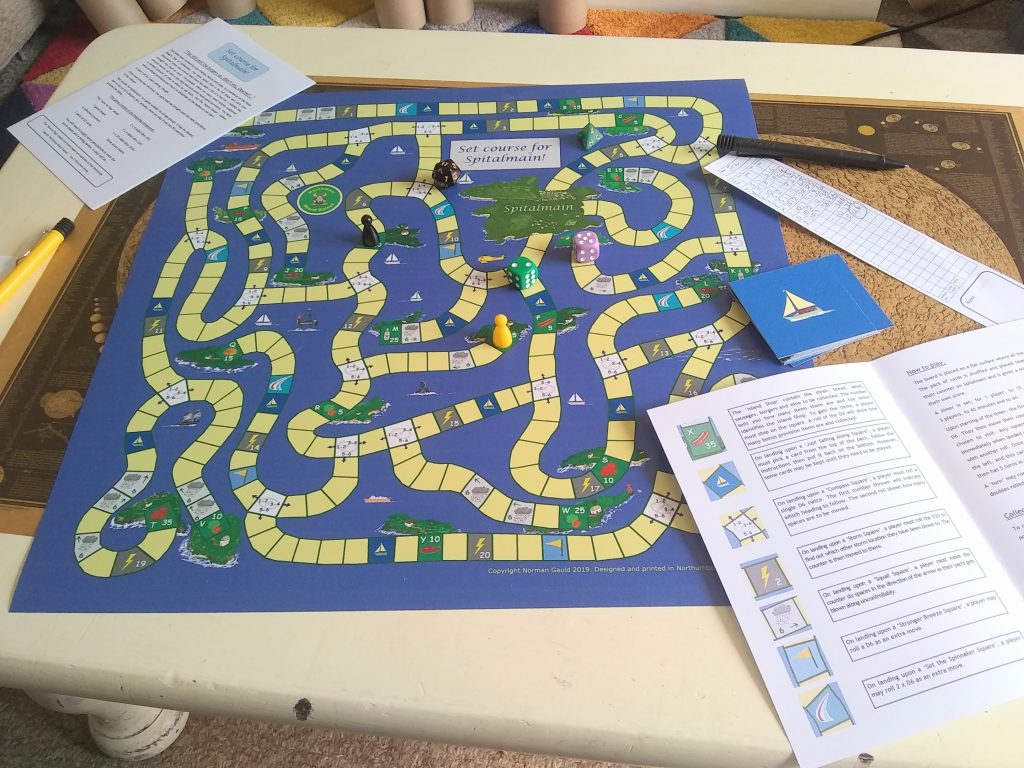 It's about sailing a yacht and having barbecues…
To set the scene;

You been invited by your friends, Ronny and Josie, to a barbecue on the West Beach of the Isle of Spitalmain. You have all sailed there from different places but there has been a bit of a misunderstanding — nobody has brought any food to cook! Fortunately, there are many small islands nearby with amazing little shops that sell a vast choice of really good provisions. You each decide to sail off, collect some of these provisions and return before the barbecue starts. However there are things out there to slow your progress. You might get caught in a storm and find yourself swept off course. There may be a problem with your steering gear because of a collision with a whale or a crew member might fall overboard. Conversely, you might find that a fair wind speeds you along at a good rate of knots or a favourable ocean current does the same.
Once everyone has returned to Spitalmain, the yacht that has brought back the most provisions is the winner.
You don't need to know anything about boats or sailing to play it.
---
Speedy-Krate Haulage Co.
A lorry board game.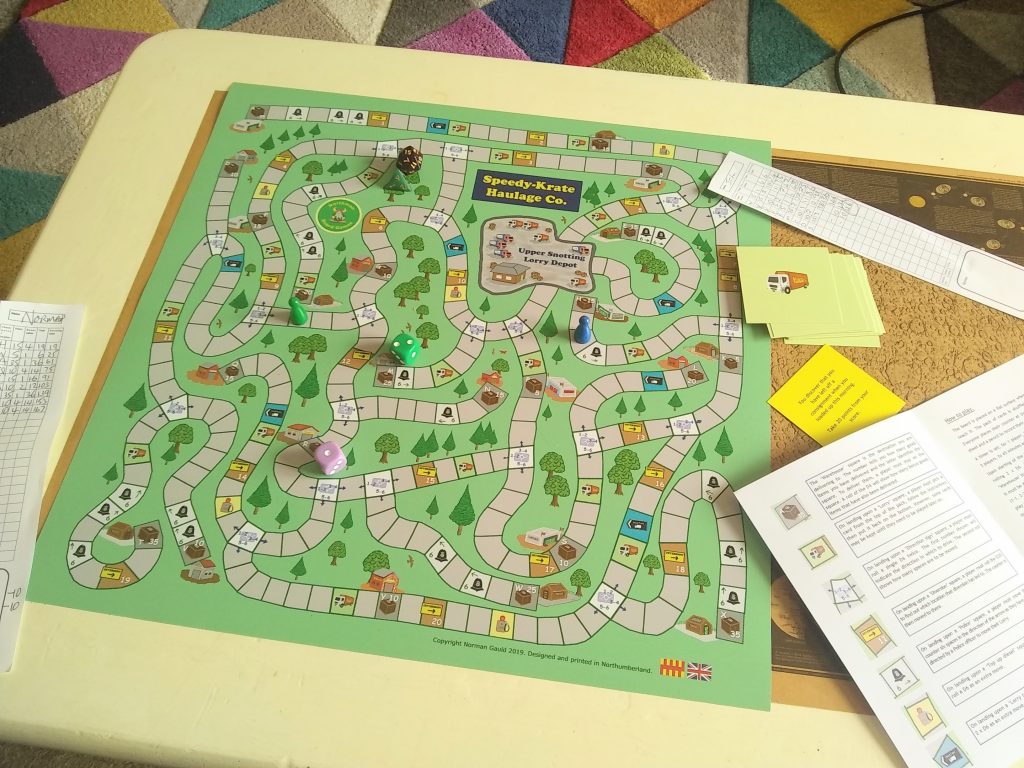 Do you like lorries and driving?
Here's something for you.
You are a lorry driver working for the Speedy–Krate Haulage Co. based at the lorry depot at Upper Snotting. The owner of the company, Algernon P. Speedy-Krate, has in place an 'Employee of the month' scheme that sees the driver who delivers the most goods in a day getting an award. Last month, it was a BIG bucket of mint choc chip ice cream.
Competition is fierce.
Unfortunately, there are lots of things that may get in your way of doing deliveries. You may have an engine problem or a closed road ahead means taking a big diversion. There might be a policeman that requires you to turn back but, then again, you might be unloaded by a forklift quicker than expected or find a shorter lorry route.
Once everyone has returned to the lorry depot, the driver that has delivered the most goods is the winner.
You don't need to know anything about lorries or how to drive to play it.
---
Heritage Line
A train board game.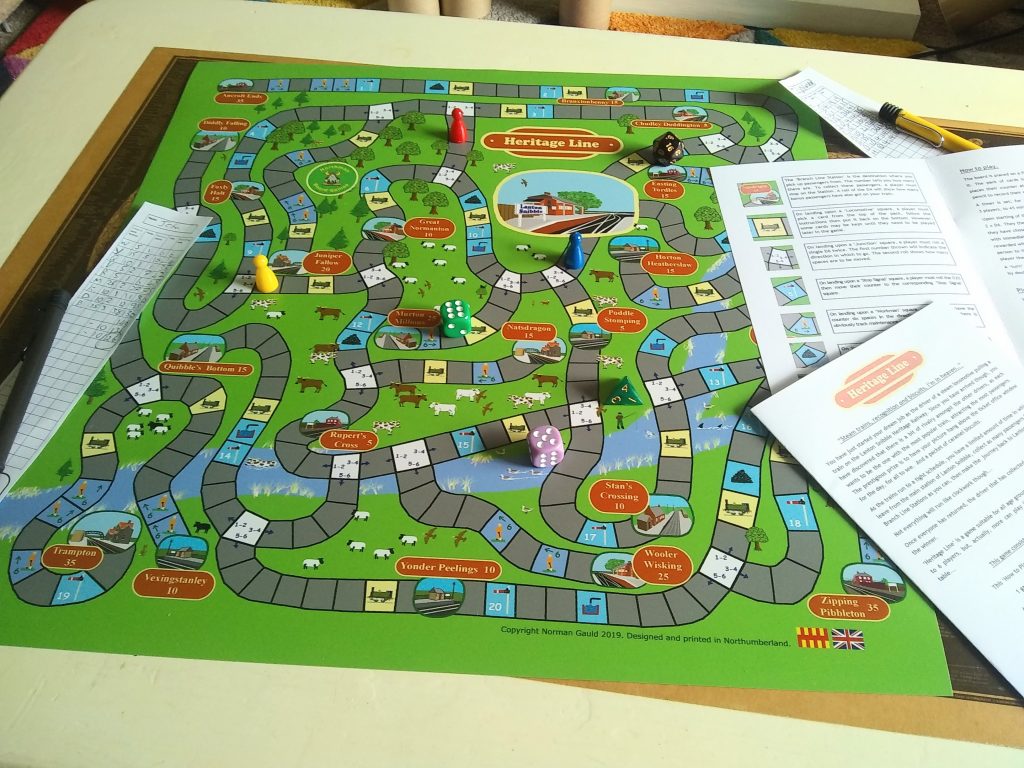 You have just started working as a steam locomotive driver for the Lanton Snibble Heritage Railway. It's what you've wanted all your life, and now, your dream has come true.
You didn't realise when you first started but there is quite a bit of rivalry amongst the other drivers. The reason for this is that the one that carries the most passengers on any particular day gets the great honour of having their photograph put up above the ticket office window for all to see. Everyone wants that accolade. It might just lead to fame and fortune or, at very least, a couple of pounds extra and a packet of chocolate biscuits with your next pay packet…

As you venture around the board, you will come across various hazards that will slow your journey along the lines. You might come upon a car broken down on a crossing or some sheep wandering around on the track. You could find yourself approaching the Branch Line Stations of Vexingstanley or Horton Heatherslaw then, suddenly, be diverted far away. Conversely, you might find extra passengers unexpectedly getting on your train or have a top up with water or coal meaning you can continue even farther afield. There are many twists and turns providing fun and laughter along the way.
Once all the drivers have return to the main station at Lanton Snibble. the one that has carried the most passengers is the winner.
You don't need to know anything about trains to play this game.
---
Game no. 6? As of 20th March 2022, it's still at the draft stage but, just so you know, it's based on a 'Tourism in Northumberland' theme. Just the thing to have in your B&B or holiday let for when your guests are stuck indoors 'cos of the rain… You'll see it soon...
---
If you have any questions or comments, or have a suggestion for a theme that you would like to see, please email us by clicking the link below.
https://planetary14bikes.co.uk/contact-us/
It's time to reconnect with people…
Now, where's the pizza delivery number…?
---
The birth of a games company – how this all happened…
Way back in the mid 1990s, I competed in a sport called Trailquest. It involved slogging up steep hills on a mountain bike, usually along a muddy track far into a forest, looking for little marker boards with a pin punch attached. You would punch holes in your control card then carry on to the next marker board. They were miles apart, often separated by thick wooded areas, rocky outcrops and fast running streams. You then had to find your way back to the start within the 5 hour allotted time or you would get penalty points. After all the competitors had safely returned, the one that had the most points won.
I was rubbish at it. I was slow. I fell off my bike frequently. More often than not I was soaked through, cold and miserable, and, to top it all, squirrels laughed and threw things at me as I pedalled past.
After 3 years of competing, I attained my best ever finish position, which was 7th last. It was then that I made the decision to bow out as there was obviously no hope of gaining such a high placement ever again….
Although I was having fun most of the time, my lack of physical stamina and reluctance to ride in the rain strongly suggested that Trailquest maybe wasn't for me.
I had always liked board games, I found them fascinating due to the fact that a mix of chance (dice rolling) and decision making could lead to either a good or a bad outcome. A metaphor for life really. This situation presented an opportunity to merge the two concepts and create a sort of virtual reality Trailquest. A virtual reality where I didn't get wet, end up in a ditch or being attacked by wild animals. Fired up with enthusiasm, I feverishly set about making the board game that ultimately became AVENTYR – The Mountain Bike Edition..
It took me 23 years to complete it and get it published...